Dev Diary PMC Africa Niger Tongo ArmA 3 Terrain
2021-10-14 Terrain Builder Time
2021-10-14T01:04:00Z New editing day has started, lets get this terrain into terrain builder and hopefully even binarized (PMC Editing Wiki: search "binarize") today.
Created terrain builder project. Imported heightmap and then satellite texture/mask (mask first, then texture).
Isn't that a pretty thing.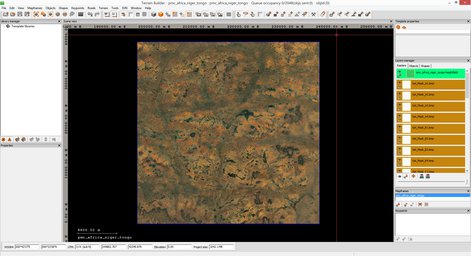 2021-10-14T01:32:00Z Started to generate layers.
While layers were generated I created proper mod.cpp and did Latitude / longitude config with global mapper.
2021-10-14T02:13:00Z Finished generating layers a moment ago, exported WRP, moveObject WRP and then started Convert Layers PNG to PAA Fast bat.
BLAZiNG SPEEDZ

2021-10-14T02:28:00Z Then continued with fast pace to run through my tool pipeline, forgot every little thing I did but now pboProject is binarizing already, things are looking good.
Terrain WRP still has no objects, the OSM shape files were lacking, there is no vegetation on them at all, just one industrial area and several residential areas, I guess just round blobs around the villages. So I have to go into the satellite mask images and paint vegetation myself in GIMP, then create shapes from the images and finally Terrain Processor generate some vegetation.
2021-10-14T02:37:00Z Okay pboProject finished binarizing, PMC Africa Niger Tongo (tongo) is in-game, or well, at least should be

Now I'll run off to edit some taiwan terrains again, plenty of object work awaiting there.
2021-10-27T20:42:00Z Back to afrika (hoho). I just published new 2021 PMC terrains alpha testing page with releases of all these last weeks new terrain torrent releases, so now its time to fix the most obvious issues. One of them was that africa niger tongo terrain is missing objects.
Edit: btw 2021 terrain alpha testing page was for guys in PMC discord, nobody was interested so it got taken down. Discord is nothing but money hungry bastards and newbies asking stupid questions treating it as 24/7 helpdesk, nobody is chatting, discord is waste of time. If you plan on checking arma discord servers out, don't bother wasting your time, go read PMC Tactical Forums or bis forums instead.
Looks like there are no TerrainProcessor/ directory to be seen. So created it, copied Terrain Processor TPP Templates files there, ran road smoothing TPP and forest-01 which was for shape file I quickly created in terrain builder. Used my PMC Greece Agios Efstratios TPP file for it, not good for african terrain but what can you do without proper african tree objects.
Created 23,335 bushes/trees/rocks for that shape file, then pboProject binarized WRP addon.
2021-10-27T21:55:00Z Fixed latitude / longitude config which was missing. It actually... well only missing from the arma3 addon dir version, it was present in the actual config.cpp, although had to do one fix for it, then pboProject binarize and verified in-game that it works.
Continue reading page 3, previous page 1 or back to Dev Diary PMC Africa Niger Tongo root page.
PMC Africa Niger Tongo: Changelog, Dev Diary, Screenshots. Back to PMC Terrain's page.