This is the leading, most comprehensive and detailed Vietnam war modification.
This is the Vietnam: The Experience
final ArmA
release (06-14-10).
Even though this is our last ArmA (meaning Armed Assault, ie ArmA 1) release, this is
work in progress
. We just want to warn anyone who is interested to not get their hopes up, VTE team is not in the business to over hyping their work.
VTE will continue on ArmA 2.
Current issues
- terrains with 1 texture 4WVR haxxor method.
- mines are not working.
- kittyhawk is broken.
- artillery is work in progress.
DO NOT DOWNLOAD THIS UNLESS YOU ACCEPT THAT THIS IS WORK IN PROGRESS.
This release contains the following: A1 Skyraider, ACH-47A Gunship, AH1 Cobra, A4 Skyhawk, A6 Intruder, B52 Stratofortress, C130 Hercules, CH-34, CH-46E, CH-47 Chinook, CH-53, F5 (camo and grey), F4E Phantom (camo and grey), F105 Thunderchief, MC130 Combat Talon, MiG-17 (two camos), MiG-19, UH-1 Huey (slick, dustoff and gunships), O1 Birddog, OH-6, S56 Sikorsky, LSSC, PBR, two sampans, USS Kittyhawk, M48 Patton, M113 ACAV (3 machine guns), M551 Sheridan, PT76, SA-2 SAM, T55 and ZU23. For personal weapons we have: AK47, AR-15 (Colt Commando), CAR-15 GL, Bren2, Browning, DP27, Enfield, Garand, Ithaca, Kar 98K, L1A1, M1 Carbine, M3A1/SD, M14, M16A1, M21, M39 Hush Puppy, M45 Swedish K, M60/shorty, M72 LAW, M79, M1911, Mas36, Mosin 38, Mosin Nagant, MP40, PPD40, PPS43, PPSh, PRC25, RPD, RPG2, RPG7, SKS, Sten/SD, Stoner, SVT, Thompson, Type63, Type 56, Type 68, Uzi and XM177e.
And much much more...
Config for all the VTE v0.4 soldiers (in theory basic OFP VTE v0.4 missions should work with little tweaking), there is now new models for most of the infantry branches. And of course the VTE objects/terrains, including two prototype terrains.
Screenshots: I run ArmA with all details set to low/very low and disabled, but I did take some shots from our MP sessions with the first release, check them out in
VTE ArmA screenshots
topic.
Here is few screenshots of the newer stuff.
SEAL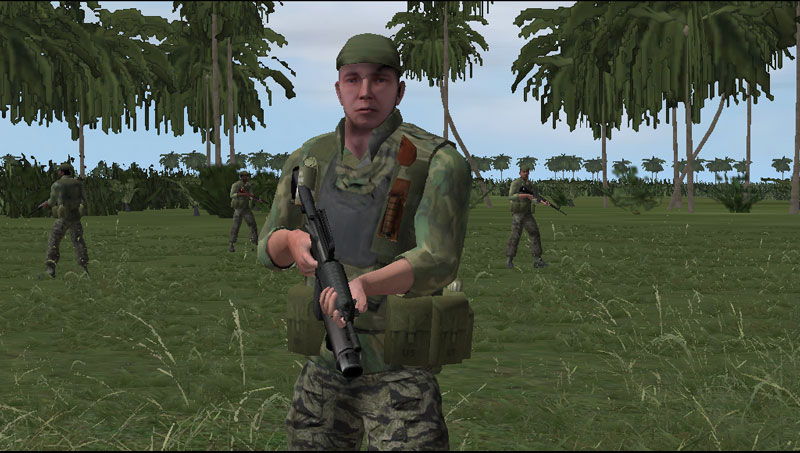 SEAL 2
SEAL 3
SEAL 4
SEAL 5
LRRP ERDL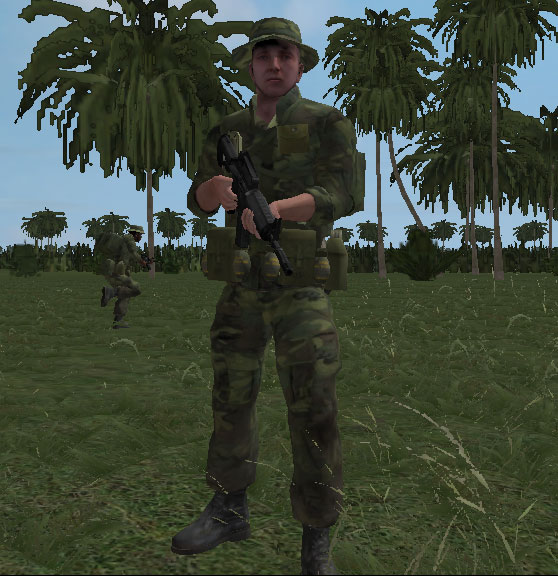 LRRP ERDL 2
LRRP ERDL 3
LRRP ERDL 4
Future plans: VTE will continue on ArmA 2.
Vietnam: The Experience ArmA online manual can be found
here
.
When
you see something missing or wrong in the manual, please send feedback to us in our forum, thank you.
Download
VTE_06-14-10_final.rar
- 1.25gb.
Mirror 1:
Armaholic.com
.
Mirror 2:
Armedassault.info
.
We appreciate the mirrors and more would be very welcome.