CCC-
The general plan is this:
first- get a campaign working, and come to an ending.
second - make sure we want to invest all manpower on it.
third - working on database. i've almost all models ready. some need skins.
fourth- start campaign building.
my wishes are..(in order)
1. playable campaigns, can reach an end/win or lose.
2. add theater specific ac, ship, and ground items to database.
3. carriers launch ac flights.
For campaign building, the link/objective in Argentine mainland can be deleted.. only leave airbases!
when you build test campaigns, can you make  British ground units show up at some beachhead/objective, as they are doing amphibious landing, then moving inland for final target-Stanley?
Argentina ARMY on islands
army units, around 15000 soldiers.
vehicles used m113, jeeps, panhard. AAV-7?
9th Infantry Commando Brigade :
25th Infantry Regiment
8th Infantry Regiment
10th Mechanized Infantry Commando Brigade…  PANHARD vehicles
3rd Mechanized Infantry Regiment
6th Mechanized Infantry Regiment
7th Mechanized Infantry Regiment
3rd Infantry Brigade
4th Infantry Regiment
5th Infantry Regiment
12th Infantry Regiment
Weapon info
ARGENTINA
FUERZA AEREA ARGENTINA / ARGETNINEAN AIR FORCE
Dassault Mirage III EA.            RADAR no RWR
IAI M5  Dagger (Israeli version ) (no radar no RWR)
Douglas A-4B                       no radar no rwr
A4C Skyhawk         radar omega nav equipment no rwr
FMA IA-58A Pucara.      close suport twing turboprop no radar no rwr no nav
Bae Canberra Mk.62. atack radar  rwr i gess chaff flares
CH-53 Chinook, bell 212        transport rescue
Augusta A-109 Hirundio        attack
ARMADA ARGENTINA (ARA) / ARGENTINEAN NAVY
Dassault Super Etendard   new fighter at the time agave radar rwr chaff flares
Douglas A-4Q         Skyhawk no radar no rwr
Aermacchi MB-339       no radar no rwr
T-34C Turbo Mentor.
Aeroespatiale SA-319B  Allouette III     capable of french anti ship missiles
SH3  Seaking.
Ships /  Buques:
TYPE 42 Class Destroyer sea dart 1 120/105mm gun x2 or 420mm aaa
ARA General Belgrano Cruiser sea cat sam multiple 120mm guns and aaa guns
ARA 25 de Mayo CV. 40mm aaa guns
ROYAL AIR FORCE
HARRIER GR3. no radar, 1 lasar designator
Avro Vulcan.
the vulcan bomber only flew 5 sorties  2 to bomb stanley
runway and from all bombs olny one hit it and the runway kept used. the
other 3 sorties were to fire anti radiation missiles with the objective of
destroying the argie westinghouse radar at stanley but they fail couse they
locked on the skyguard radars of the aaa and  didnt hit the min EW raidar
ony minor damaged occur to the radar  in ocasion but was quickly fixed
within couple of hours
CH-53 Chinook.
ROYAL NAVY
SeaHarrier FS.Mk1.
Westland Wessex, Lynx, SH-3 Seaking, Gazzelle.
Ships /  Buques:
TYPE 42 sea dart
TYPE 82  Class Destroyer       24 sea darts
TYPE 22 Broadsword Class       2x8 seawolfs sam
TYPE 21 Amazon Class           seacat
Lander Class                   seacan sam
Fearless       class landing ship      2x8 seacat
Landing Ship Logistics, Landing Craft Utility, Tanker,
Atlantic Conveyor, HMS Invincible, HMS Hermes,
County Class        seacat seaslug sams
Patrol Boat, Ice Patrol.
the brits used blowpipes manportable sams
argentina SA7
argentina air defences Rheinmetal 202 20mm AAA visual
Oerlikon Contraves 35mm skyguard aaa system
man maned  machineguns used aslo as aaa
the brits had rapier sam dunno of any land based aaa
Ground facilites on Falkland islands/airbases/EW/ammo depots/AD batteries.
the Argentine CIC was located at a Stanley House (name given to the
falklands house style)  of 2 floors, at Puerto Argentino (Stanley)
the man radar in the islans were a  Westinghouse AN/TPS-43 F, with a 300 km
range, 3d radar. Togeather with an army Alert MK 2 radar
this radars where used for detection, id, and support for air trafic,
tactical guidance of the friendly flights or as GCI, support in ata combat,
and somehow  for ships detection.
now about the aaa defences in the area
were mainly Rheinmetall R202 visual, and oerlikon 35mm with superfledermaus
fire control, and tigercat sam and fire control skyguard
everything supported by an ELTA search radar
The BAM Malvinas (or MALVINAS AIR BASE at Puerto ARgentino (STanley))
had a small terminal building with a control tower 2 hangars and other
facilities (small stuff like mm just small werehouses) also some gess 4 fuel
tanks but they were empty and the fuel hided in pillowbox in trenches
becouse this were going to be a main target for the brits course. in stanley
also were small wherehouse used for storage fo different materials the
runway was small and had a paved taxiway that was extended with those metal
planches (dont remember the name in inglish) u know like the ones used in
korea for runways? metal squares puted togueather on the ground to extend
the taxiway.
from this base the navy airmachis mb-339 flew and also pucaras
and all c-130 and F-28 and F-27 transports.
the runway was located at the eastert border  of the Freycinet peninsula, on
Soledad Island (East Falkland). and near to the SAn Felipe Cabe. the Runway
orientation were east to west. and 1250mtrs long. and 45mtrs thick. and some
sa7 launchers
the defences of this base where basicaly 18 aaa piecies between 20 and 35mm
and 3 tigercat samn(each tigercat is a 3 missile launcher)
from this 18 aaa at least 5 were skyguard radar controlled 35mm aaa
also a fixed roland launcher wich has 2 launch tubes and auto realoads.
the land defence where a company of the RI 25 infantery from the army and
security from air force personell.
now the BAM CONDOR (GOOSE GREEN) located at darwin-goose green zone
this was a dirt strip of 600mtrs long for close air support pucara aircraft
the air defences of this base were mainly 8 aaa picies 2 skyguards and teh
rest R202, and 2 SA7 launchers
the land defence were a company from the air force
the defence of the whole area darwin-goose green was in charge of task force
Mercedes from the RI 25 (Infantery REgiment 25) army
the personel and pilots of this base sleept in tents and the fuel were
storege in trenches inside pillowboxes and the ammo were also sored in
trenches
EAM CALDERON (NAVAL air station CALDERON   auxiliary strip) located at
BORBON island (Pebble island) from where turbomentors flew from and also
pucaras.Had a main runway of dirt 600mtrs long and 2 auxiliar runways of 400mtrs
each one (soft land)
the air defences consited in 4 R202 20mm aaa
and a seccion of navy marines divided in 3 grups with machineguns
note:
- there were a napalm depot that manufucture this product south of  Condor
air base but was never destroyed
original deployment of aircraft in continent and in the islands
BAM Trelew: 6s Canberra Mk-62/64.
IX Brigada Aérea de Comodoro Rivadavia: Transport squadron C and KC-130 Hércules (2KC-130),
Escuadrón (Squadron) Fénix: 5 Lear Jet L-35A used for restransmision of radio and navigation, flying at 50000fts, Escuadrón de Búsqueda y Salvamento (search and rescue squadron) 5 Fokker F-27, DHC-6 Twin Otter and choppers . 1 fighter group with mirage MIII and M5 daggers
BAM San Julián: 1 fighter bomber squadron with 15 A-4C Skyhawk.
BAM Santa Cruz: 1 fighter bomber squadron with 8 8 IA-58 Pucará
BAM Río Gallegos: 2 fighter bomber squadron s with 10 A-4B, 6 M-III. (airforce) and  
4 to 6 Tracker S-2E (navy)
BAM Río Grande: (this is a navy air base)
2...Neptune SP-2H (navy)
8.... M 5 Dagger. (air froce)
8.... A-4Q (navy) moved from the carrier to rio grande
5.... Super Etendard (Navy)
AT Malvinas islands:   12  IA-58 Pucará a squadron of , 6 Bell 212   and 2 CH-47 Chinook (FAA)
6 Aermacchi MB-339A (navy), 6 Mentor T-34C-1 (navy)
2 Hirundo A-109 A (army attack chopper), 2 Puma SA-330L (army)
of course the pucaras were moved from one strip to another but the airmachis remainded at BAM Malvinas and the Turbomentors only at BAM Malvinas and EAN Calderon (borbon island)
face 3: start of the ground war........start with the brit landing at san carlos,  brit objective provide close air support and defeat the argentine forces.
argentina......disrupt the brit landing and provide close air support and keep hitting the ships.
some incidents:
the brits start the landing at san carlos........bomb alley.......start of ground war.....
the brits used some light tanks but the terrain were real bad and they had to walk  they used some track veicles and land rovers.
argentina had no tanks that i know just apcs i will find out and send u the info.
due to the sunk of the container ship conveyor the troops lost lost of equipment and choppers and they were forced to walk from san carlos to goose green and to stanley  some choppers tryed to provide close air support  some where shot down by ground fire some with pucaras.
now the sunk of the conveyor screwed the schedulle of the ground war so the brits try another landing south of stanley to flank the argie forces but they where discovered and attacked loosing the landing ships aslo the escorting frigate was hit and the laanding troops suffering heavy casualties.
the last incidents
the strike on the invincible by skyhawks and super etendards
and one of the last things mmm oh yea the land based exocet (argie improvisation) hit and damaged the glamorgan hehehe they took the exocet containers out of a summner class ship and somhow fool the targeting computer they put the containers in a trailer and took em to stanley in 2 flight  of c 130  
note the brits used blowpipes sam portable.......rapier sams.....
argentina had tigercat sam, skyguard aaa, r202 aaa, diferent tipes from 20 to 40mm aaa, and roland sam and portable sa7.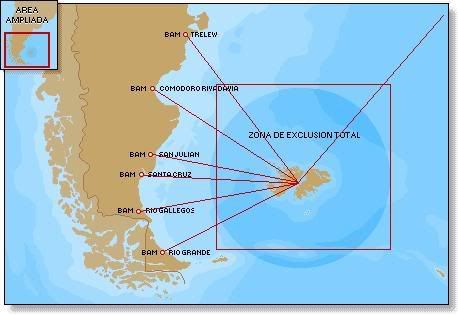 1982 falkland war..
Brit RN  sea harrier FRS 1  ..  x 28. in 3 squadron.
     RAF   harrier GR3  ...  x 10.. in one sq.
Peled -
Overall scenario research
This Thread is in a Continue for the " Falklands Based TE's " Thread . Some Info to be listed here .
as you can read , not much data as for the Air war in these interesting Battles & Operations ( wich I must admit that are more interesting then the ITO2 ones ), but a lot of data for the Ground movements that Will help me build Some accurated TE's . There are some more Info that I have collected for a Specific Operations like the "Rosario" wich include Detailed Air Battle OOB , but I believe I will just build the TE's with a Random air Battle OOB's.  
FalklandsTheatre Operations  :
1.Operation Rosario -was the name given to the Argentine invasion of the Falkland Islands on the morning of 2 April 1982; the first event in the Falklands War.The colonial governor and the small garrison were forced to surrender within hours of the initial landings. The British government under Margaret Thatcher launched a massive expedition (Operation Corporate) which regained control of the colony seventy-four days later.
2.During the Falklands War, Operation Canbelow -was a planned British anti-aircraft ambush conducted on the night of 5 June 1982 off the western Falkland Islands.After a number of night raids of high-flying Argentine Canberra bombers, the Royal Navy moved two ships (HMS Invincible and HMS Brilliant) to surprise the bombers on their next flight. Bad weather prevented the aircraft from taking off, thus sparing them.
3. Operation Corporate- was the codename given to the 1982 British military involvement in the Falkland Islands during the Falklands War. The 2 April 1982 Argentine invasion, Operation Rosario, took the British by surprise. The British undertook a series of military operations as a means of recapturing the Falkands from Argentine occupation.The British counterinvasion was launched on 21 May, the capital city of Port Stanley fell on 14 June.
4. During the Falklands War, Operations Black Buck 1 to Black Buck 6- were a series of six extremely long-range bombing attacks by Royal Air Force Vulcan bombers against Argentine positions in the Falkland Islands. The bombs were intended to cause damage to Argentine installations, especially the Port Stanley Airport; it was hoped that the attacks would cause the defenders to switch on defensive radars, which would then be targeted by the missiles.
5. During the 1982 Falklands War, Operation Sutton -was the British landings at Ajax Bay and Port San Carlos, near the San Carlos settlements on East Falkland Island. During the night 3 Commando Brigade with attached units of the Parachute Regiment were landed from the liner SS Canberra and the LPD HMS Fearless. There was very limited enemy resistance.The invasion, part of the overall Corporate plan sparked a strong reply from the Argentine Air Force who sunk the frigate HMS Ardent (F184) at a cost of 16 warplanes lost.
FalklandsTheatre Battles :
1. The Battle of Goose Green -(May 27–28, 1982) was an engagement of the Falklands War between British and Argentinian forces. Goose Green had little strategic value to the overall aim of recapturing the capital Stanley but, as it was a significant Argentinian position and close to the beachhead at San Carlos, it could not be ignored.
2. The Battle of Mount Harriet- was an engagement of the Falklands War which took place on the night of 11/12 June 1982 between British and Argentine forces. It was one of three battles in a brigade-sized operation on the same night. The British force consisted of 42 Commando (42 CDO), Royal Marines under the command of Lt. Col. Nick Vaux Royal Marines (who later became a general) with artillery support from a battery of 29 Commando Regiment, Royal Artillery. The 1st Battalion, Welsh Guards (1WG) and two companies from 40 CDO were in reserve. HMS Yarmouth provided naval-gunfire support for the British forces. The Argentinian defenders consisted of Lieutenant-Colonel Diego Soria's 4th Infantry Regiment (RI 4).
3. The Battle of Two Sisters -was an engagement of the Falklands War during the British advance towards the capital Stanley that took place on the 11th/12 June 1982.
4. The Battle of Mount Longdon- was an engagement of the Falklands War between British and Argentinian forces, which took place on the 11th/12 June 1982, resulting in a British victory. The British force consisted of 3 PARA under Lieutenant-Colonel Hew Pike (later a general) with artillery support from six 105 mm light guns of 29 Commando Regiment, Royal Artillery. 2 PARA were in reserve. Naval gunfire support was provided by HMS Avenger's 4.5-in gun. The Argentinian force consisted of B Company of the 7th Infantry Regiment (RI 7), as-well as other detachments from other units. The local Argentinian commander was Major Carlos Carrizo-Salvadores, the second-in-command of RI 7. The 7th Infantry Regiment, reinforced by two of the Marine Infantry platoons, held Mount Longdon, Wireless Ridge and Cortley Ridge to the east.
5. The Battle of Mount Tumbledown -was an engagement of the Falklands War, one of a series of battles that took place during the British advance towards Stanley. The battle took place on the night of June 13–June 14, 1982. In the battle, the British launched an assault on Tumbledown Mountain, one of the heights that dominate the town of Stanley, and succeeded in driving the Argentine forces from the mountain. The attacking British force consisted of the 2nd Battalion, Scots Guards with mortar detachments from 42 Commando, Royal Marines and the 1/7th Duke of Edinburgh's Own Gurkha Rifles with support from a troop of the Blues and Royals equipped with two Scorpion and two Scimitar armoured vehicles. The attack was supported by naval gunfire from HMS Active's 4.5-in gun. The Argentines defending the mountain were Commander Carlos Robacio's 5th Marine Infantry Battalion (BIM 5). Prior to the British landings, the marine battalion had been augmented by a company of the Amphibious Engineers Company (CKIA) and a battery of the 1st Marine Artillery Battalion (BIAC), as well as a heavy machine-gun company of the Headquarter's Battalion (BICO). The 5th Marine Battalion was further strengthened by three Tigercat SAM batteries of the 1st Marine Anti-Aircraft Regiment and was close to the size of a small brigade.
6. The Battle of Wireless Ridge -was an engagement of the Falklands War which took place on the night of 13 June and 14 June 1982, between British and Argentinian forces during the advance towards the Argentinian occupied capital of the Falklands Stanley.
The British force consisted of 2nd Battalion, The Parachute Regiment, a troop of the Blues & Royals, with two FV101 Scorpion and two FV107 Scimitar light tanks, as well as artillery support from two batteries of 29 Commando Regiment, Royal Artillery and naval gunfire support provided by HMS Ambuscade's 4.5-in gun. The Argentine force consisted of the 7th Infantry Regiment and detachments from other units.
In the closing hours of the 13 June, D Company began the attack, advancing upon an Argentinian occupied hill north-west of Wireless Ridge. It had been hit by an immense barrage from British guns, from land and sea. In the preceding 12 hours, British artillery had fired 6,000 rounds with their 105 mm pieces, and as they began their push, they were further backed by naval fire and the 76 and 30 mm guns mounted on the light tanks. The approximately eighty casualties sustained by the Paras a few weeks earlier at the Battle of Goose Green, (including the loss of their commanding officer), had induced them not to take any unnecessary chances the second time around. When D Company reached the hill, they found that the Argentinian C Company of the 7th Infantry Regiment had withdrawn due to the heavy bombardment. As Major Philip Neame's D Company started to consolidate their position, the Argentinian 7th Regiment launched a series of heavy recoilles rifle, rocket and mortar attacks on Mount Longon causing casualties and destruction to the 3rd Parachute Battalion the Parachute Regiment. (see Rick Jolly, The Red & Green Life Machine: A Diary of the Falklands Field Hospital, p. 138, Century Publishing, 1983).A and B Companies crossed their start-lines to the north of Wireless Ridge. They met fierce resistance for when they left their trenches they came under heavy machine-gun fire and a massive retaliation was initiated by the British machine-gunners and the guns of the Blues & Royals light tanks.D Company then began the final assault from the western end of Wireless Ridge, under the cover of heavy fire from HMS Ambuscade, tanks, twelve 105 mm artillery guns, several mortar pieces and anti-tank rockets. Earlier the Argentinian general headquarters in Stanley had instructed Major Guillermo Berazay of the Argentinian 3rd Infantry Regiment to conduct a regimental-sized counter-attack. He was told to assemble his A Company of the 3rd Infantry Regiment and the dismounted Panhard AML-H90 squadron as well as B Company of the 25th Special Infantry Regiment, (who were marching from Stanley Airport), at the ruins of Moody Brook. When Berazay arrived at the shattered barracks there was no sign of the company from the 25th Infantry Regiment, but there were about seventy men from Captain Rodrigo Soloaga's cavalry squadron there. They had retreated after making a stand on the western end of Wireless Ridge. Shattered by the weight of fire unleashed on them, they had lost six killed, had nearly fifty wounded and were in disorder after an ineffectual and uncoordinated counter-attack.
Argentine Aircrafts in the Falklands War :
http://www.britains-smallwars.com/Falkl ... neAirc.htm
The Falklands Battles :
http://www.royal-navy.mod.uk/server/show/nav.3956
Some ORB's and Background :
http://freespace.virgin.net/gordon.smit ... KLANDS.htm
ORB:
http://en.wikipedia.org/wiki/Air_forces ... klands_War
http://www.naval-history.net/F17argforces.htm
as for DB...Here is a first preview of Air Forces for both sides , no hurry :
first list of Air Force ORB's for Falklands War :
-----------------------------------------
Argentinan ORB:
1st Air Brigade - Lockheed KC/C-130 Hercules, Boeing 707, Fokker F-28 and Fokker F-27  
2nd Air Brigade - English Electric B.Mk62 Canberra 8  (Model ?)  
3rd Air Brigade - FMA IA 58 Pucar? 24  (Model available ?)
4th Air Brigade - McDonnell Douglas A-4C Skyhawk  
5th Air Brigade - McDonnell Douglas A-4B Skyhawk  
6th Air Brigade - Israel Aircraft Industries Dagger
7th Air Brigade - Boeing CH-47C Chinook and Bell 212  
8th Air Brigade - Dassault Mirage IIIEA
3rd Naval Air Fighter/Attack Squadron - McDonnell Douglas A-4Q Skyhawk  
Naval Air Antisubmarine Squadron - Grumman S-2E Tracker (Model available ?)
Naval Air Training Squadron - Beechcraft T-34 Mentor 4 (Model ?)
2nd Naval Air Helicopter Squadron - Sikorsky SH-3 Sea King
Naval Air Transport Squadrons -  Fokker F-28
601 Army Aviation Battalion - Boeing CH-47C Chinook
-------------------------------------------
United Kingdom ORB:
No. 1(F) Squadron - (Harrier GR.Mk.3)  (HMS Hermes & Port San Carlos)
No. 18 Squadron - (Chinook HC.Mk.1)  at Wideawake
No. 29 Squadron - (Phantom FGR.Mk.2) only at Wideawake
No. 39 Squadron - (English Electric PR.Mk. Canberra)  Clandestine operations from Chile
No. 42 Squadron - (Nimrod MR.Mk.2) 13 MR.from all squadrons
No. 44 Squadron - (Vulcan B.Mk.2)
No. 47 Squadron - (C-130 Hercules)
No. 50 Squadron - (Vulcan B.Mk.2)
No. 51 Squadron - (Nimrod R.Mk.1)
No. 55 Squadron - (Victor K.Mk.2) Victor K.2 from both squadrons
No. 57 Squadron - (Victor K.Mk.2)
No. 70 Squadron - (C-130 Hercules)
No. 101 Squadron - (Vulcan B.Mk.2)
No. 120 Squadron - (Nimrod MR.Mk.2)
No. 201 Squadron - (Nimrod MR.Mk.2)
No. 202 Squadron - (Sea King HAR.Mk.3) only at Wideawake
No. 206 Squadron - (Nimrod MR.Mk.2)
3 Squadrons of (Sea Harrier FRS.Mk.1)
5 Squadrons of (Sea King HC.Mk5)
2 Squadrons of (Gazelle AH.Mk.1, Scout AH.Mk.1)
Nice Site for memorial the war , good stuff !
http://www.comcen.com.au/~raiment/
For Argentinian Air Force Squadron Patches during the War , go to the left corner menu and check the "Argentine Airforce" page...all Patches are there !
errrr...i am spending my time at the office on reading the Falklands War History ,a lot of stuff , though , i am little confused now...------pls correct me if need : basically Falklands was under Argentina control (captured by)...Mt. Pleasant Air Base become under Argentinian control ?...then brits captured the Island ? Santa Cruz , Stanley etc. ....am i correct ?  
my main question is how to set the Island control/ownerships in the first hrs of the Campaigns...
maybe will set the West island to the Argentinian control...would be realistic enough...Mt. Pleasant for Argentinas ?
as for Mt . Pleasant , read the Progress on Campaign thread....
Unfurtantly nothing to do there...we will use it for a smoothy campaign......
San Carlos Operation :
http://www.naval-history.net/F43sancarlos.htm
Does anybody got any idea where the HMS Conqueror sunked General Belgrano Cruiser ?
i did'nt found any map indicate the accurate Co-ord. , just material says that it happaned in the South Atlantic Sea , about 200 miles far from the Arena.
a Good read about :
http://news.bbc.co.uk/onthisday/hi/date ... 480241.stm
i am doubt about any operational of Ships/Subs , far from the PaK of Goose Island , needs to test that too , it would be great to see the Belgrano event .
CCC - the event happened outside exlcusion zone, at south end..
Peled - Thanks a lot ccc !
i knew that the HMS Conqueror with more 3 Subs were patroling around the area of Number 2 waypoint in that article , good to know that the HMS Conqueror advanced and followed the "Belgrano" to the South....
Thanks again .
CCC -
Boeing 707, Fokker F-28 and Fokker F-27.  we dont need these civi ac.  
3rd Air Brigade - FMA IA 58 Pucar? 24  (Model available ?) yes in FF3/4.
Naval Air Antisubmarine Squadron - Grumman S-2E Tracker (Model available ?)  yes.
Naval Air Training Squadron - Beechcraft T-34 Mentor 4 (Model ?) will check this one.. it's said joining some operation too.
a Detailed Table Of Ships for both sides :
http://www.falklandswar.org.uk/ships.htm
and Air War :
http://www.falklandswar.org.uk/ac.htm
in RL,  there're one airport at Stanley, one airstrip at Goose green, and one airstrip at Pebble island.
for ground troops on Flakland island, i think most are bare foot infantry..  IIRC we can edit database to make them moving slower - so slightly lengthen the war days.
anyway hope the campaign works..  
once all ships added,  they can be organized in few operational units  like this..
http://freespace.virgin.net/gordon.smit ... kforce.htm
Ranger822-
some British helos missing?  
SEA KINGS Squadrons
No.820 - 11 HAS.5's on "Invincible" for ASW,
No.824 - 5 HAS.2A's on RFA's, 2 at Gibraltar,
No.825 - Reformed Squadron of 10 HAS.2A's reaching Falklands late May in support role,
No.826 - 9 HAS.5 's on "Hermes" for ASW,
No.846 - 15 HC.4 Assault, including 9 initially on "Hermes", 3 on "Fearless" and 1 on "Intrepid"
WESSEX Squadrons
No.737 - 2 HAS.3's on County class destroyers,
No.845 & No.848 (reformed NAS) - 30 HU.5's before end of war on RFA's, "Intrepid", carried on "Atlantic Conveyor" (6) and at Ascension (2),
No.847 - Reformed Squadron of 24 HU.5's reaching Falklands early June in support role
LYNX Squdrons
No.815 HAS.2's on destroyers and frigates
WASP Squdrons
No.829 HAS.1's on Rothesay frigates and small ships
not sure which of these are named something else and already covered. . .
site used as reference
http://freespace.virgin.net/gordon.smit ... KLANDS.htm
Here is the map I have - with routes of ground forces - - all start from sea ---
Pretty simple land movement - - BTW - I actually trained with the 2nd PARA - damn those guys are good -- most look like regular guys, a bit on the pale skinned side, like they need a little more sun - -but they are very well conditioned, carry unbelieveable ruck sack loads and can run like gazelles. We picked our best 5 runners to race against them - well they decided to run their entire section - only two of us could keep up with their "formation" run. It was absolutely embarrassing having them outrun us on our home base after we picked an exceptionally difficult route - - thought you might find that interesting when considering the "Yomp" Brits did on the northern attack route - - the were hauling some serious butt to do what they did as a unit under the conditions the were in . . . Never underestimate the Brits.
http://harrier.hyperlinx.cz/FAQ-falklandwar.htm
http://www.flashpoint1982.co.uk/downloads.php
http://www.aeropuertosarg.com.ar/galeri ... =83&pos=59
Argentina occupied Falklands and in response Great Britain dispatched air, land, and sea forces to reclaim the Falklands.
I don't think Mt. Pleasant was built yet . . . I think that came later - - -
For the first hours of the campaign, depending on when you start the campaign in the historical timeline - the Argentines were in posssession of the Falklands.  I have a few books on the Falklands War with maps and such but have to dig them up somewhere  .  . it is a good guess there is plenty on the web as you have suspected that should be able to give you exact troop levels at all the key points for many time periods during the campaign.  
Yes - barefoot infantry Eyran . . . There might have been vehicles but I think that might be after Stanley and Goose Green were taken.  Most all supplies were either non-existent or a close run thing with just helicopters - I don't know if you can accurately model that situation or not . . Also, I am not sure but Falcon may have some factor for troop morale or effectiveness - If you can put effectiveness of British forces at 100% and the Argentines at something very low to basically make the British forces more effective depite no support, etc . . that would be the way to do it . . . otherwise maybe lower the quantity of forces for Argentines?  In most computer sims I think the British would get their assess kicked unless there is some compensation for the huge disparity between the effectiveness of the opposing forces.
Air Bases Overview :
Goose Green Operation :
Operation "Mount Harriet" :