Hi guys .
I made 4 IAP (Instrument Approach Procedure) charts for Israel theater (ITAFMk2 v1.51) for Falcon 4.0 Allied Force .
Airports that covered are : Hatzor , Nevatim AB , Ovda and Ramat David in Israel .
Charts are under scale and very precise . Each chart is a jpg photo with dimensions 21X29.7cm .
Below you can see a sample of chart of Ramat David (Israel) airport :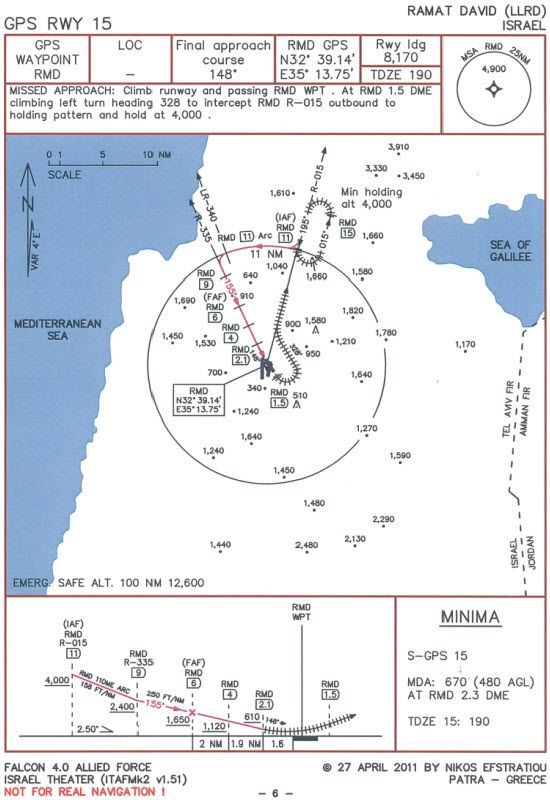 Charts are so precise , that you can land at airport even with fog and at night with visibility less of a nautical mile .
Zip file contains "IAP General Info Israel.pdf" with very useful informations and inside folder "Installation files" contains an updated kneemap of Israel theater created by my friend Dennis Beaujean from Mansfield (OH) USA –
Special thanks to you Dennis
- and an updated "stations.dat" file (intallations instructions included) .
Last has the "Tacan list Israel Falcon4 A F v1.0.pdf" , a TACAN list with all informations about TACAN channels and runways of all airports inside Israel theater .
Pay attention to these notes :
1)
It is critical that at FAF waypoint be at precise altitude with landing gears down and air brakes extended . Then at FAF DME start your descent with 2.5 deg. There is always an intermediate waypoint between FAF and last waypoint (that you turn to final approach course) just for altitude check and minor corrections .
2)
In order to have a perfect alignment with runway centerline and because of fact that the DME of the last waypoint has a decimal digit , you must insert GPS coordinates of TACAN station over a steerpoint , so you can turn to final approach course aligned with runway centerline at exactly DME of last waypoint .
You can download the charts from here :
http://www.e-haf.org/mambo/index.php?op ... nfo&id=286
I hope to enjoy these charts with bad weather (night with fog) so you can see their real worth .
Your comments and possible corrections will be welcomed from me . You can also e-mail me at :
neystratiou@gmail.com
Have a nice time on Falcon 4.0 Allied Force with safe and precise landings .