Here's a little scenario I came up with today for the Panama Theater. I don't have the theater installed at the moment, so I don't know how much work it will take to make it compatible, or if it's even worth it.
Exercise
Tropic Thunder
Premise: CVBG Pre-deployment Workups
Scenario: Soviets/Warsaw Pact have covertly (in cooperation with Communist/sympathetic S. American countries) have infiltrated the Panamanian government. A coup ensues, installing a pro-WP puppet government. Air defense and aviation units, secretly stockpiled in S. American dockyards and depots are rapidly deployed throughout Panama.
Two US CVBGs are deployed to the region to keep watch on the situation as it develops. Enroute, a US flagged merchant is sunk while transiting the now Soviet-controlled Panama Canal (by an insurgency or by the KGB?). In response, the US CVBGs are ordered to conduct offensive operations against Soviet/WP forces in Panama as part of a pre-invasion preparation. A US Marine amphibious group is deployed to the region (ETA 3 days) to conduct an invasion of Panama, with the goal of capturing Panama City and restoring the pro-US government.
BLUEFOR: US Navy and Marine Corps air assets
OPFOR: TOPGUN/Navy Fighter Weapons School/NSAWC Adversary units; Soviet-emulated SAMs and AAA, and ground units.
Exercise Length: 7 days (amphibious landing on D+3)
Scenario Map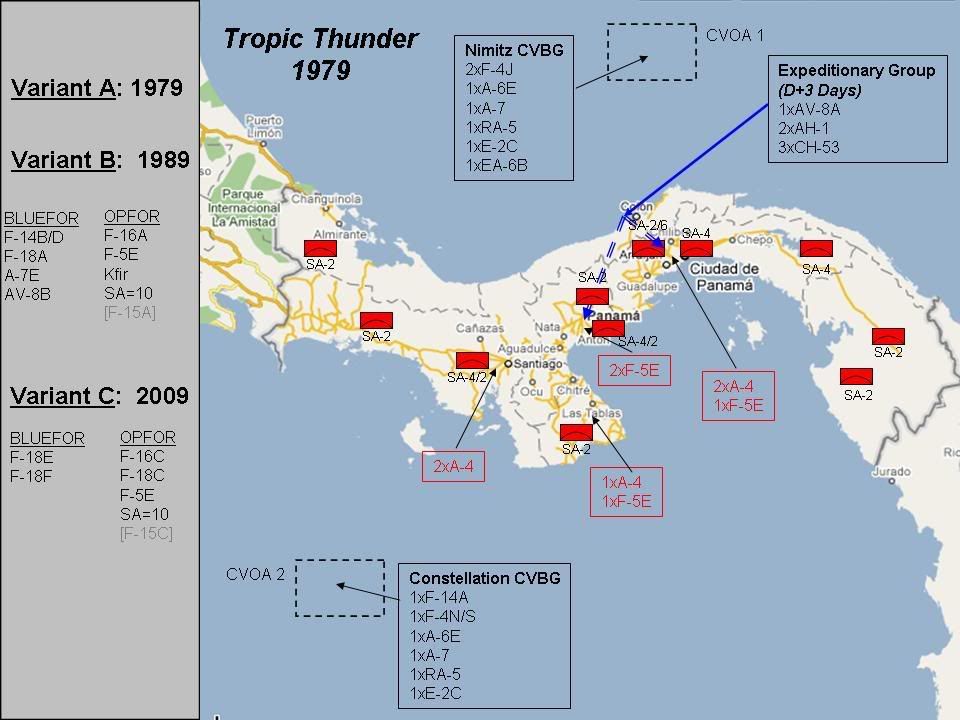 Thoughts?
Variant A would be FF5 only.
Variants B and C should be able to be created with the SP/FF4 DB and be compatible with all versions of Falcon. With some small additional work, the theater can be expanded using different Adversaries for OF (like Nevada). In other words, OF has a different F-16 set of adversaries than FF4/5, more F-5E skins, etc. But initially the campaign should work with either with minor adjustments in tacedit and skins.
Variant A should be strongly pro-BLUEFOR, with B and C more balanced. Variant C would likely be the most challenging due to the very near equity between the various platforms.