PMC Rattler
- 25km island
It is a 25.6km x 25.6km sized desert island with war torn feeling of ruined towns, then some modern oil well / refinery and sea port locations. Also there is military bases, airbase and airstrip.
Two Apaches patrolling near oil refinery
Two Apaches patrolling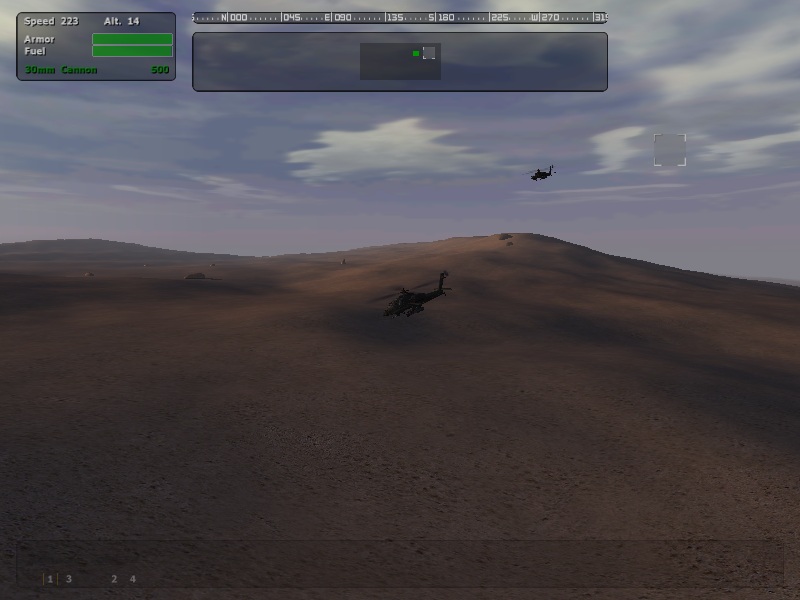 Apache on small hillside
Apache closing to military base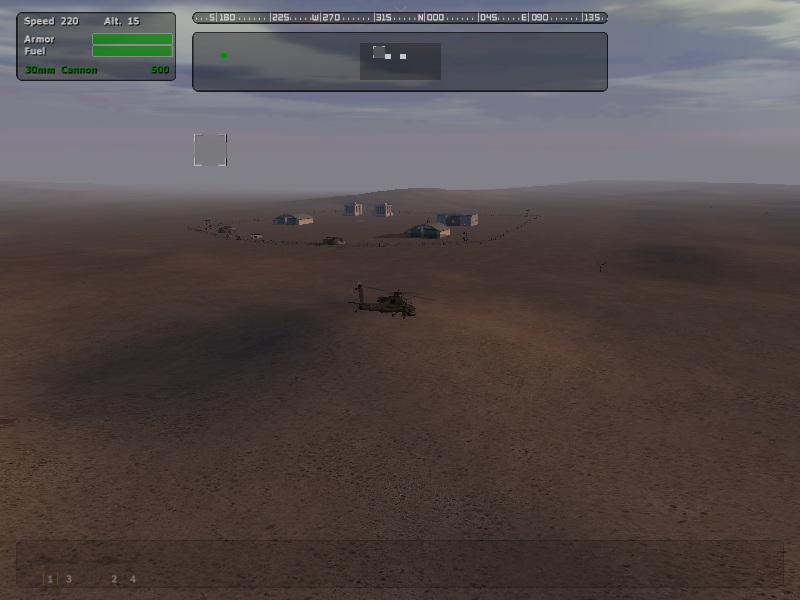 Next we have few screenshots with viewdistance 3,500 meters. With amd 2800, radeon 9800 pro, 1gb ram machine it is fully playable with this kind of insane viewdistance.
A10 flying above hills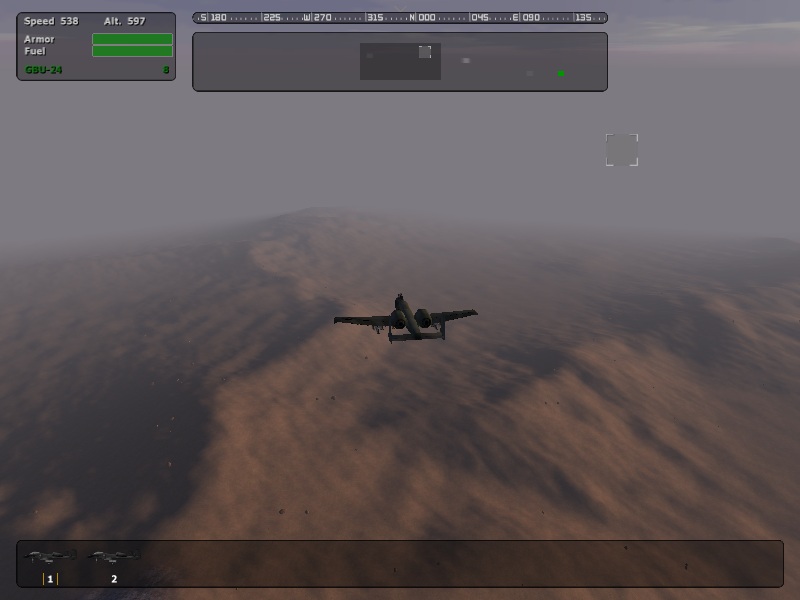 A10 flying above valley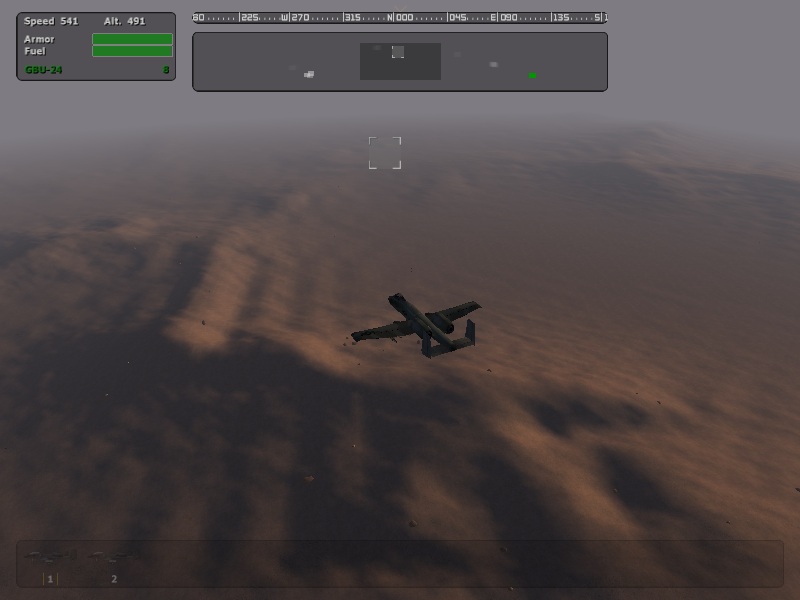 A10 near refinery
A10 over sea port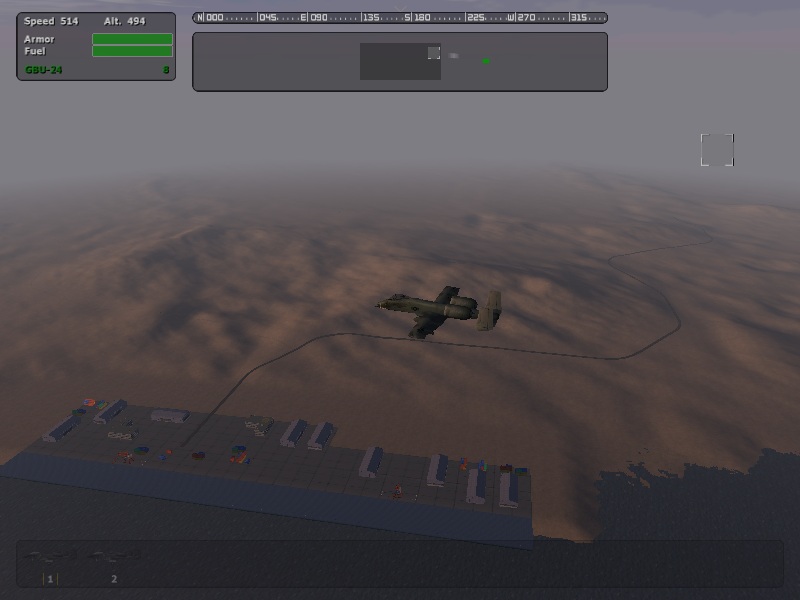 The island has the mentioned ruined towns using resistance objects (or cwc whatever kolgujev destroyed buildings?), then those oil well/refinery areas along with sea ports are using AGS industrial pack and harbor kit. The airbase and military bases use resistance and Baracken objects. Most of the locations are connected with dirt and sometimes asfalt roads. The airbase is of course configured to use the AI landing autopilot.
As usual, PMC provides the island with several missions so people cannot slam this to be another of those "5 minutes in editor" addons. Hey, we made this island for our missions, so missions we surely will add to it.
Is this excuse for normal island since its "desert", no its not. There is no big dedicated desert island released so PMC Rattler changes that now. It is pure desert because as seen on earlier user island releases people dont really like island with tens of different landscapes combined. PMC approach is european green theme with PMC Rugen and now desert with this PMC Rattler. When people want to have specific landscape, they can just choose an island. You cannot swap from units woodland camo to desert camo during mission, so why add gazillion terrain types on one island?
Check out large size image of the
mapview with names
(496kb) to get better idea of the terrain, roads and objective locations.
This release comes with few single player missions (MP ones might follow) and one campaign. The missions included are:
PMC Fight Video Desert
- Nice and hugely large & boring "dynamic" combat cutscene. Just sit back and watch the fight erupt. This indeed is a long mission and as its completely random camerawork, sometimes you see units standing around while you hear intense battle on the background. It also takes some time to watch the units move, surely this will make viewer to appreciate the actual combat footage he sees eventually. There should be tons of such footage since there are going to be alot of combined arms units on the map.
PMC Gunship Assault 1
- Apache attack on airbase, (perhaps opening for a new campaign). You with your AH-64 and OH58 wingmen attack the enemy held airbase in dawn. Expect to see infantry, soft vehicles along with heavy tanks. There are also shilka threat present so you need to be careful while approaching. There is A-10 flight standing by for you attack order when you have acknowledged that any AA threats are taken down.
PMC Hercules Rescue
- CoC CE, SAR operation, get the survivors to safety. You have three blackhawks, two apaches and chinook to ferry your two ranger and one SEAL squads around. First you need to find the downed C-130 somewhere in the huge desert, it can be anywhere, then you must get your troops foot on the ground to rescue the survivors and neutralize the delicate equipment onboard the C-130. Finally you must bring all survivors back to the HQ. Enemy presence is heavy, youre short on time, will you bring them home?
PMC Valley Escape
- LSR Rangers are evacuating from oil farm under heavy enemy fire. Your Ranger squad is located on one of the oil well/farms, enemies are closing in on multiple directions, HQ promised to send support but you must hold back the attacking russians until its safe to bring in extraction helo. Keep your men alive.
PMC Dynamic CE
-
Dynamic
CoC CE
CAMPAIGN
, huge battle with dynamic AI/campaign structure. Yep as it says, this is dynamic campaign. No, we're not just toying with words here as seen before, this is DYNAMIC and its CAMPAIGN, period. Ok, so lets take an example; in mission one enemy capture objective a, b and c, while you capture e, d and f. Well in next mission enemy has placed defensive troops in the locations he captured and will not anymore send his assets to these locations, instead he goes after the remaining objectives such as your e, d and f. While your forces have done the same, there is now defensive forces in e, d and f locations so you can move on and focus on the other objectives. Weather will be random and saved for next mission, ie if it was raining when you ended your mission, next one will start as rain too until the weather changes. Use your forces wisely, you got Rangers, SEALs, regular infantry. UH60L Blackhawks, Apaches, Abrams and Bradleys. Support assets are M252 mortars, M101 howitzers, M109 Paladins and Cruise missiles from the nuclear sub below the ocean surface. Your goal is to run off the reds from the region by capturing all objectives and at the same time preventing him to capture any of yours, also you get specific mission(s) like search and destroy for enemy artillery (more will be added later, time permitting). All in all, you have never seen campaign like this on OFP as of yet. Its still work in progress and feedback is welcome, it is however completely playbale since there is no showstopper bugs/issues at least none that I know of.
Required addons for missions are different than from the island of course. Basically the missions need:
JAM2
LSR Ranger/SEALs
bas blackhawk
CoC Unified Artillery
C-130 Hercules
SA-11 Gadfly
Bn880 tracers
and something else I'm sure that I forgot

Required Addons
Island requires few addons, these are; Agent Smith (AGS) Harbour kit, AGS Industrial Pack and Baracken. No other addons needed. Download these from:
Industrial Pack v3.0
Harbor kit v1.3
Baracken v1.5
Version and Download
The island including missions are now designated as Alpha 1, but we hope to move into beta testing and eventually final release in very quick pace. If there is any dramatic errors or I get fabulous user suggestions, I'm going to fix/change what is necessary. People are semi-encouraged to create missions with this versions as I will NOT "delete cities" just out of the blue. Honestly, I think its pretty ok as is and if nothing comes up (what I expect) we dont see many changes for final version.
Get PMC Rattler island at our
downloads
page.
Official
PMC Tactical OFP homepage
is always open with our forum. We will gather bug reports and feedback in BIS topic as well in our own forums. Remeber, it is your feedback which makes the island/missions better, nothing else.