Dev Diary PMC Ukraine Kharkiv ArmA 3 Terrain
2022-02-27T16:47:00Z Project Started
2022-02-27T16:47:00Z This page created, this project started

Got the Global Mapper project started, UTM 37N zone (UTM Projection) switched and then it was decision time for how large terrain will this be, is it going to be a compact 40km just around the city or larger 81.9km with plenty of ukrainian and even some russian landscape around it.
Larger terrain means more floating point precision issue jitter.
2022-02-27T17:00:00Z Made a decision, 81.9km. Go big or go home, bitch.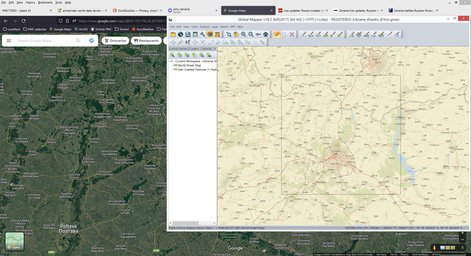 First thing after locking that user created grid into position, I exported KMZ Rectangle file and started Terra Incognita download. This way I can work on other things while terra incognita is slowly downloading.
2022-02-27T17:09:00Z Initial burst of tasks done. As said KMZ exported, terra incognita grid section 1 satellite imagery download started, then I added SRTM 1-arc-sec online source and exported ASCII Grid heightmap.asc file.
Then, well then I jumped back to PMC Ukraine Kyiv editing while terra incognita was doing its thing

2022-02-27T20:15:00Z Terra incognita grid section 1 finished downloading. Starting grid section 2.
Continue reading page 2 or back to Dev Diary PMC Ukraine Kharkiv root page.
PMC Ukraine Kharkiv: Changelog, Dev Diary, Screenshots. Back to PMC Terrain's page.